About
Map
Tours
Sleep
Transport
Other
All
Grand Cayman
is one of the three
Cayman Islands
(Cayman Brac and Little Cayman), a British Overseas Territory in the western Caribbean south of Cuba, west of Jamaica.
View Map
. Famous for its coral reefs, Stingray City, Seven Mile Beach, sailing, golf and dining.
Book Here
Top 10 Things - Random Order
1.
Seven Mile Beach (Grand Cayman)
2.
Stingray City
3.
Eden Rock & Devil's Grotto
4.
Queen Elizabeth II Botanic Park
5.
Diving & Snorkeling
Local Radio Stations
6.
Camana Bay - social hotspot
7.
Rum Point (45 minutes north from Georgetown)
8.
Cayman Turtle Farm
9.
Smith Cove - swim and shade.
10.
Underwater Shipwreck
Having your own transport is easy and cheaper in the long run. For bicycles, scooters and cars go to Cayman Auto Rentals.
Something to look forward to is the brand new Margaritaville Resort Grand Cayman. For regulars in the know it used to be the location of Treasure Island Resort. The new owners are creating a new kind of family-friendly, entertaining resort with 280 guest rooms, several bars, restaurants, a spa, social space, swimming pools, kid areas and a water slide.
Check out our blog: CoolestCarib.com/blog
Book flights, hotels, cars & activites here: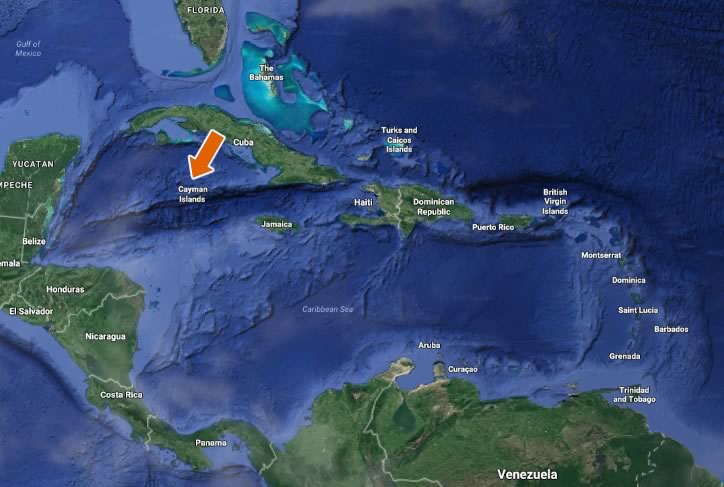 *View Interactive Map
If you own a business in the Caribbean and need help with your website or social media, gandor.tv will create, maintain and promote it for you.
Enjoy your stay!
National Anthem
"Beloved Isle Cayman"
WEATHER FORECAST OF GRAND CAYMAN
GRAND CAYMAN SOCIAL MEDIA
FUN FACTS OF GRAND CAYMAN
Nationality
British and Caymanian
Size
76 square miles
Population
52 601 (2011 census)
Currency & Credit Cards
CI Dollar. Major Credit Cards are accepted. ATM machines are located in banks and selected commercial outlets
Banks
Cayman Island has more than 250 licensed banks, only a few are full-service retail banks. These include Scotiabank & Trust (Cayman) Ltd., Butterfield Bank (Cayman) Limited, Royal Bank of Canada, Cayman National Bank Ltd., First Caribbean International Bank (Cayman) Limited.
Taxation
No direct taxation is imposed on residents and Cayman Islands companies. The government receives the majority of its income from indirect taxation. Duty is levied against most imported goods, which is typically in the range of 22% to 25%.
Animals
Blue Iguanas (
Cyclura lewisi
), Grand Cayman Amazon parrots (
Amazona leucocephala caymanensis
), Central American Agouti (Dasyprocta punctata),
Food
Breadfruit, papaya, avocado, citrus, mango and naseberry are the predominant fruit trees. Citrus, bananas, plantains, mangoes, yams, sweet potatoes, pumpkins, cassava, watermelon, cantaloupe, cucumbers, green and hot peppers, tomatoes, leafy vegetables, and coconuts. Tropical marine life are found in the Caribbean waters surrounding the Islands, especially in Cayman's coral reefs.
Plants
Wild Banana Orchids, Ghost Orchids, Thatch Palm trees, Red Birch trees, Mahogany trees, various fruit trees such as Plantain, Mango, Breadfruit, and Tamarind. Also Yellow Mastics and Black Mastics
Lingo
The language of the locals is predominantly English, either with a British accent, or a A Creole language, Bay Islands English, is thought to have developed in the Caymans during the eighteenth century, and spread to islands farther west. However Creole forms are more common on Cayman Brac and Little Cayman.
Brief History
The Cayman Islands were first sighted by Christopher Columbus, European explorer on 10 May, 1503. Columbus was blown off course. This detour allowed him to sight the sister islands, Cayman Brac and Little Cayman. He called these islands Las Tortugas after the many sea turtles he found there.
Caribbean Tip of the Day
Feeling stuffy in your white linen outfits in the hot Caribbean weather? Pack bamboo golf shirts, T-shirts, dresses (or buy in the Caribbean - there are many stores which carry them). You don't need to iron bamboo material, which makes it ideal for travel. The material breathes better than cotton, so you stay cooler for longer. Bamboo is also good for your skin, so they say.