South Florida. Not a Caribbean Island but its proximity connects it to the Caribbean giving Miami the geographical title as the captital of the Caribbean.
And not to forget he amount of imports done to the Caribbean from or through South Florida, the many connecting flights to and from the Caribbean and the very similar climate, holiday spirit, beaches and variety of watersports.
Top 10 Things
Random Order
1.
The Florida Keys and Surrounding State Parks
2.
Everglades National Park
3.
Kitesurfing - Lessons and Rentals in Pompano and Fort Lauderdale
4.
Charter Boat Fishing
5.
Bonnet House in Fort Lauderdale
6.
Kiteflying at Haulover Park - 99 acres.
7.
Vizcaya Museum & Gardens in Miami
8.
Coral Castle in Homestead Miami
9.
Grab dinner and a show along Fort Lauderdale's historic New River - The Jungle Queen.
10.
Venetian Pool in Coral Gables.
An intersting fact is that Spanish explorer Ponce de León named the region La Florida, which means "flowery land".
Acording to CoolestCarib.com, if South Florida ever splits from the continent it would be the number one Caribbean Island.
What else is there to do in South Florida? If you're into kitesurfing or wish to learn how to kiteboard, South Florida has enough beaches and strong winds to satify your kiting desires. For more information on kitesuring in and around Fort Lauderdale, Lauderdale By the Sea and Pompano contact Fort Lauderdale Kitesurfing Co. For kitesurfing more south, on Miami Beach contact Sky Banditz. And for kitesurfing lessons and rentals in Palm Beach, Juno or Jupiter check out Jupiter Kite Paddle Wake.
Enjoy your stay!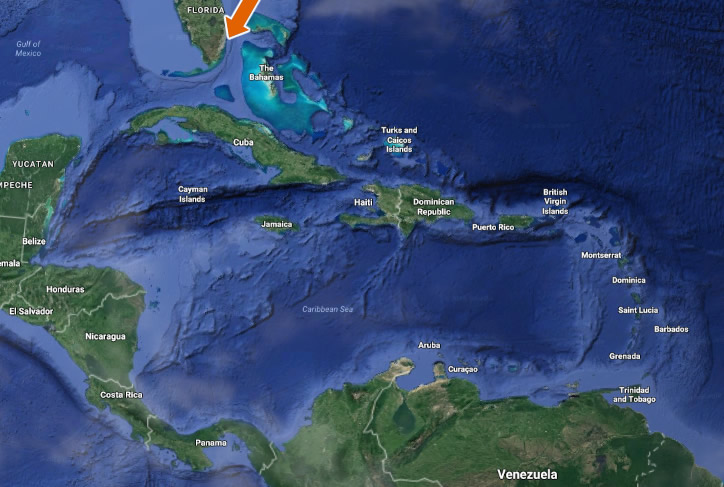 If you own or manage a business in the
Caribbean
and need professional assistance with your website and social media,
gandor.tv
will create, maintain and promote them for you.

Photo Feature
South Florida

Nationality
USA. Americans!
Geography
Comprising the southernmost sections of peninsular Florida. This area includes the Miami metropolitan area (generally defined as Miami-Dade, Broward, and Palm Beach counties), the Florida Keys, and the interior region known as the Glades.
Drives on the
Right
Calling Code
+1
Animals
The White Ibis is a common waterbird and the mascot for the University of Miami.
Southern Florida is the only place in the world where American crocodiles and alligators are found in the same region.
Drinking Law
The legal age for purchase and consumption of alcoholic beverages is 21; proof of age is required on purchase.
Electricity
Like Canada, the United States uses 110 to 120 volts AC (60 cycles).
Emergency
To reach the police, ambulance, or fire department, dial tel. 911
Taxes
6% state sales tax (plus 1% local tax, for a total of 7% in Miami-Dade County (from Homestead to North Miami Beach) is added for all goods and services purchased in Florida. In Surfside, hotel taxes total 11%; in Bal Harbour, 11%; in Miami Beach (including South Beach), 13%; Food and beverage tax in Miami Beach, Bal Harbour and Surfside is 9%, in Miami-Dade restaurants 8%, and for restaurants in hotels, 9%. Broward County sales tax is 6% and resort tax is 5%. Sales tax in Palm Beach is 6.5%, while resort tax is 5%. Yes, a mouthful!
Time Zone
Eastern Standard Time (EST) zone.

Coolest Caribbean
Tip of the Day
Feeling stuffy in your white linen outfits in the hot Caribbean weather? Pack bamboo golf shirts, T-shirts, dresses (or buy in the Caribbean - there are many stores which carry them). You don't need to iron bamboo material, which makes it ideal for travel. The material breathes better than cotton, so you stay cooler for longer. Bamboo is also good for your skin, so they say.